This company is great. Here's a description from their Etsy site:
Drawing elegance and strength from natural beauty, White Lilie Designs
creates original jewelry that is handmade in Burlington, Vermont.
Combining varied textures and colors with original wire wrapping
techniques, each piece is a unique creation. Individual elements are
carefully hand-selected and delicately balanced with sterling silver and
gold filled beads and clasps to create an organic look.
I've been working with Becca, who is super sweet and extra accommodating to special orders. You guys are going to be excited when you see the necklace she sent me: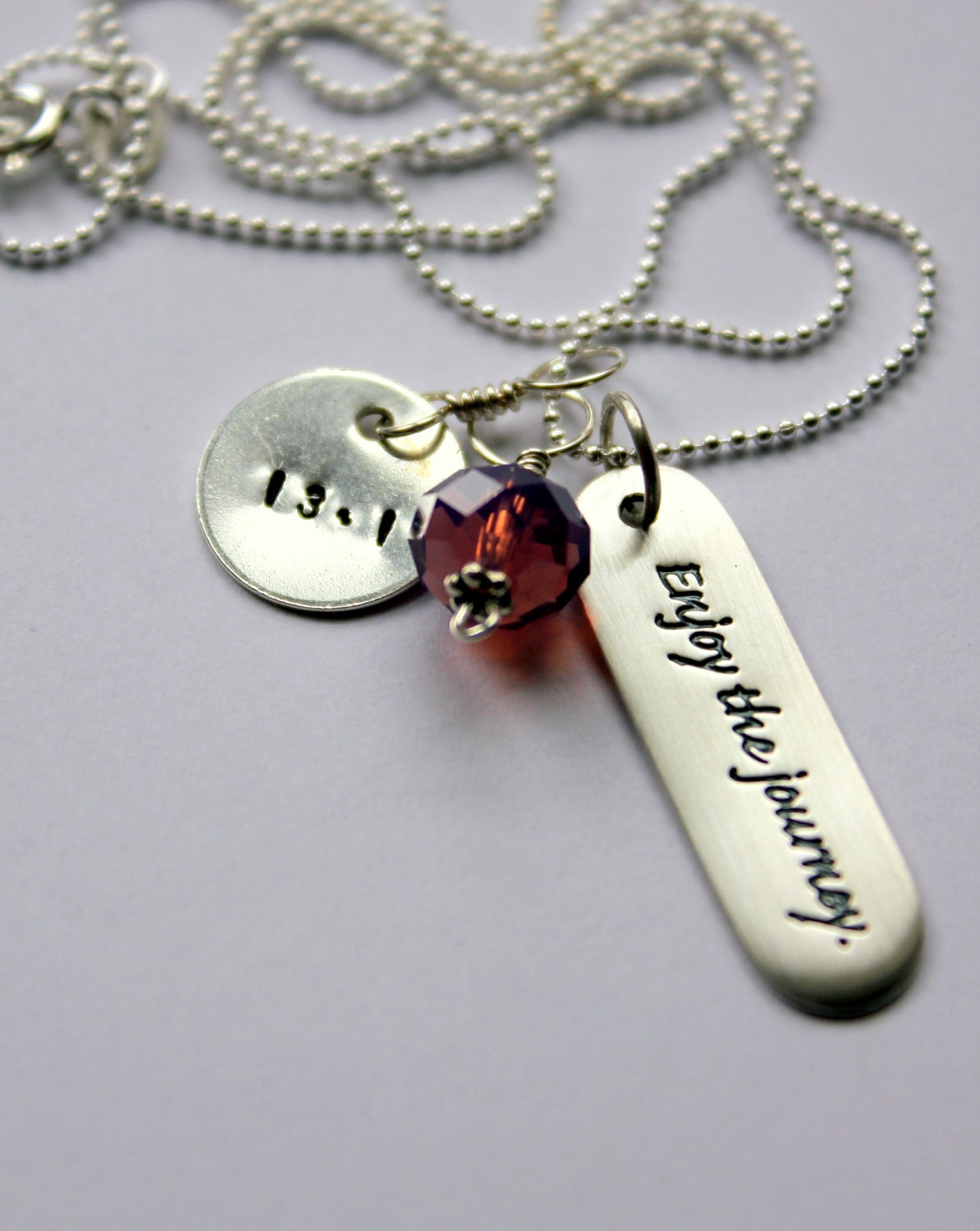 Just like this, with a purple Swarovski crystal instead of the red. Gorgeous.


A stunning and simple 16 inch sterling silver 1.0 mm ball chain from Italy with three
sterling silver charms attached. All are sterling silver : one a beautiful delicate oblong
shape that reads, "Enjoy The Journey" The other charm is a 11 mm circle pendant with the hand stamped, 13.1 to honor the half marathoner, also you can choose a Swarovski crystal color of your choice!! Someone completed a marathon instead? We can change it!
It was sent in a box which contained this fancy schmancy gift bag:
Yay! Pretty bag = less wrapping presents!
To get an idea of the length:
When will I learn to not lean my head towards the camera? It's giant enough already.
Becca has offered one of these beautiful sterling silver necklaces to a lucky winner. The coolest part? You get to customize your own color, and choose 13.1 or 26.2 on the charm.
This would be the PERFECT gift for someone that completed their first half or full marathon this year, or who is going to tackle it in 2012.... go check out her store and finish out your Christmas shopping!
And then, enter the giveaway! Open for entries until midnight on December 9th.
If you haven't entered a giveaway using Rafflecopter, don't worry! It's super easy to use - just click each item for instructions, then do whatever it says, and click
I Did This!
That's it!